Tampa Bay Symphony
The Tampa Bay Symphony under the direction of Mark Sforzini announced their 2017-18 Season will include Five. Performances will be Tuesday, February 20, 2018 at the Palladium Theater in St. Petersburg; Sunday, February 25, 2018 at the St. Pete College Arts Auditorium, Clearwater; and Sunday, March 11, 2018 in Ferguson Hall, Straz Center, Tampa.
Dragon Curve
Commissioned by the North Dakota Trombone Choir, Dragon Curve was premiered at the University of North Dakota's Trombone Day on Saturday, March 4. Additional performances by the University of Southern Mississippi Trombone Choir in Chattanooga on March 7 and Knoxville on March 8.
Dimitri Kakavelakis put together a great presentation about the Southern Miss Trombone Choir's concert at UTC, which included Dragon Curve. Click on the picture below to view.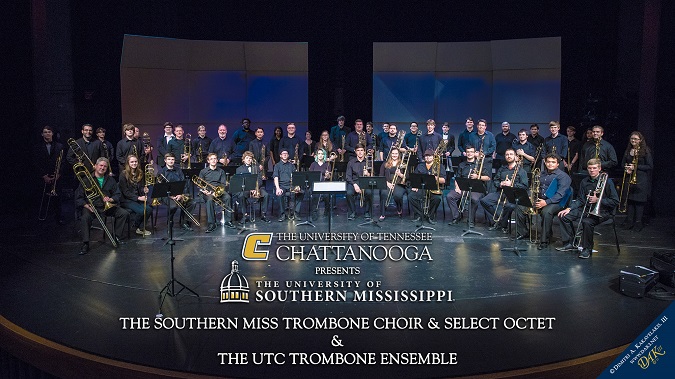 Summerville Orchestra
The Summerville Orchestra in South Carolina, under the direction of Wojciech Milewski, performed Five on their recent concert series. Pre-concert talk with the composer at 6:30, concerts at 7:30 on Friday, November 10 and Saturday, November 11.
Chattanooga Memorial Commission
To honor the Sailor and four Marines killed in the July 2015 shooting, a consortium of 68 high school, university, community, military, and brass bands joined Chattanooga composer Kenyon Wilson to create a new work for concert band. The full list of commissioning ensembles is available here.
"What music often does is give us the chance to create community, because that experience of all of us listening to this at the same time is again a memorial to those heroes." – Chattanooga Mayor Andy Berke
Upcoming Five Tributes
Tampa Bay Symphony
Mark Sforzini, director
Clearwater, FL
Tampa Bay Symphony
Mark Sforzini, director
Tampa, FL
Butler University
Matthew J. Smith, director
Indianapolis, IN